Keeping the Message of Resurrection Alive Even After Easter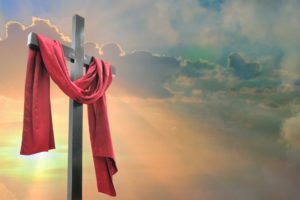 We hope everyone had a beautiful Easter! For many, the celebration presents the opportunity to invite friends and family to church for the first time. It's an occasion that offers a wonderful introduction to Jesus Christ and the meaning of his death and resurrection. As Christians, we know that the resurrection of Jesus Christ is the foundation of our faith. For those who are unfamiliar or want to know more about the story of resurrection, we can use this sermon to establish the significance of His crucifixion. Truly, it is a powerful message we should continue to discuss even after Easter.
As a believer, the story of resurrection is one that consistently reminds us to remain steadfast even through the challenges and ugliness of the world. It solidifies the following messages:
1. He is Savior.
In Mark 16: 14-16 it says,
"Later Jesus appeared to the Eleven as they were eating; he rebuked them for their lack of faith and their stubborn refusal to believe those who had seen him after he had risen. 15 He said to them, "Go into all the world and preach the gospel to all creation. 16 Whoever believes and is baptized will be saved, but whoever does not believe will be condemned."
There is nothing more powerful than Jesus' rise from death. His resurrection is a message to the world that He is Lord. Through Him we are saved as he holds the power over sin and our path to life after death.   
2. He Opened the Doors for Forgiveness.
Ephesians 1:7 says
"In Him we have redemption through His blood, the forgiveness of sins, in accordance with the riches of God's grace."
All of our sins were conquered on the cross. On a daily basis, we should remember that His life and death were the ultimate sacrifice. Jesus paid our debts and wiped a clean slate so that we could be forgiven.  
3. The Gift of Salvation is Waiting for You.
Romans 10:9 reminds us, "If you confess with your mouth that Jesus is Lord and believe in your heart that God raised him from the dead, you will be saved."
The cross is the ultimate penalty of death that Jesus took on our behalf. He was not a sinner, yet he made the sacrifice for our sins. This led way to our path for salvation. He came to save all those who were lost. Through the power of resurrection, we are reminded that His love for us is alive and unchanging.       
4. There is Hope Amid Terror.
The world is full of terror, anguish, hatred, and evil but we must be the light of the Lord and followers of Jesus Christ. The story of Jesus' resurrection represents that there is hope amid fear.
In Ephesians 1:18-19 we are reminded,
"I pray that the eyes of your heart may be enlightened in order that you may know the hope to which He has called you, the riches of His glorious inheritance in His holy people, 19 and his incomparably great power for us who believe."
There will be temporary feelings of fear when we see all of the hate going on in the world but through Jesus we find hope. When we go through difficulties, we should pray for His guidance for He is the sole author of hope.
5. Christ Dwells in All of Us.
We are weak but we gain strength through Him. We are sinners but are forgiven through Him. We are empty but we are fulfilled through Him. Jesus' promise to us was to have faith and know that all times His spirit dwells in us.
His grace is how we hold steadfast and hold on to His promise of eternal life.
"Examine yourselves to see whether you are in the faith; test yourselves. Do you not realize that Christ Jesus is in you—unless, of course, you fail the test?"
—Corinthians 13:5
If you believe, you will receive his life-giving spirit. His resurrection led the way for believers to receive his spirit.
"But if Christ is in you, though the body is dead because of sin, the spirit is life because of righteousness."
—Romans 8:10
His spirit lives inside us and that is how we are able to walk with hope and faith. At all times we should know that He protects us.
Resurrection is a Message to Be Shared Every Day
Though we generally only speak about Jesus' resurrection around Easter, we should really be having these conversations every day. We can use these messages as an introduction to who Jesus is and how we gain strength through His eternal love.
If you would like to learn more about this subject or are in need of prayer, please connect with us today. At Faith Miracle Sanctuary Christian Worship Center, we hold daily prayer and services for all walks of life. Whether you're just now exploring Christianity or are looking for a church to attend in Johnson City, TN, we're here for you!
Like this content? Share it here!