Introducing My Child to Jesus and Christian Values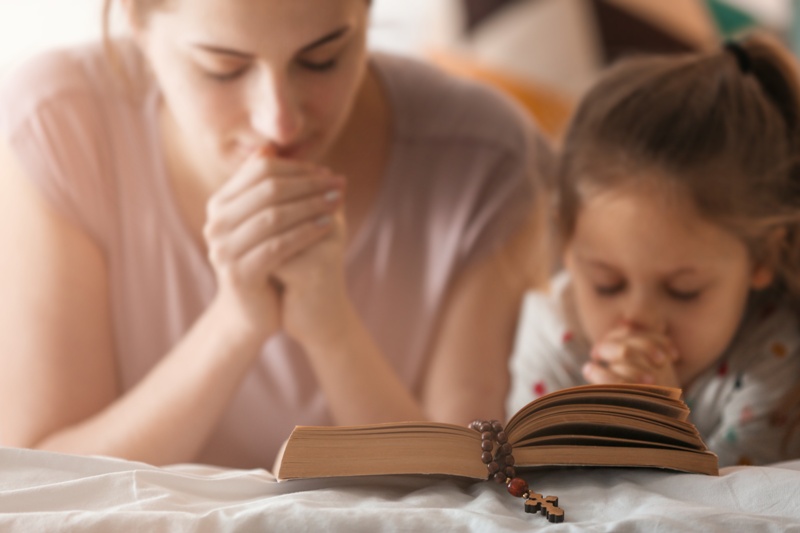 How we choose to introduce our children to Jesus and Christian values is important. Raising children who love God and use their Christianity to help them make life decisions matters more than ever. That saying "children are like sponges" is repeated time and time again because it's true. As your child's mind develops, it is grasping everything it hears and sees. They will begin to have questions about the world, what values they should hold, and some may even begin to ask about life and death. Having open and honest discussions with them will provide the answers they need to feel secure and confident.
One of the most essential conversations is about God and what it means to be a Christian. There are many ways to approach these conversations but if you're needing some direction, here are a couple of helpful ideas:
Read and Sing to Them
With so many great Christian children's books available today, there are numerous opportunities for introducing your little one to stories from the Bible. Prayer books are especially good for first time lessons. There are even lullaby books such as "Take Heart, My Child" by Ainsley Earhardt, which is a lyrical lullaby that is perfect to signing to children before bed. Other good books include Matthew Paul Turner's "When God Made You" and "Goodnight, Ark" by Laura Sassi. Moreover, when you're driving in the car, play children's Christian songs and sing along with them. Songs are a great way to introduce children to messages from the Bible.
Say I Love You and God Loves You, Too
Hearing 'I love you' is important. When children grow up in a loving environment, they are more likely to emanate the same love and compassionate in other aspects of their life. Every time you remind your child you love them, you can also add "God loves you too." The more your child hears this phrase, the more it will sink in. Read them scriptures that they will be able to understand such as, "For God so loved the world, that he gave his only begotten Son, that whosoever believeth in him should not perish, but have everlasting life" (John 3:16). You can also teach them the significance of other Bible verses such as, "Love your neighbor as yourself" (Matthew 22:39).
The more your child hears these words, the greater likeliness the message will begin to sink in.
Bring Your Child to Church
Your child's environment is significant. Research has found that a child's environment will affect them later in life as their brains are developing positive and/or negative emotions. When a child grows up attending church, he or she is more likely to remember those experiences and associate the ritual as a positive aspect of their childhood.
Of course, as a parent, you want to make sure your child understands the significance of attending church. Before the first visit, talk to your child about where you're going and why. Explain the importance of worship and the dynamics of church such as who a pastor is, who the others attending church are, and what you gain by going to church.
Depending how old your child is, you may want to consider taking them to Children's Church. If they would rather stay with you, that's okay. Give them an opportunity to get comfortable with church and the church community. The more you attend, the more relaxed and willing they will be to venture off to Children's Church.
Attend Faith Miracle Sanctuary Christian Worship Center Today!
Please join us for service and bring the entire family! Our children and youth ministries include fun activities and games that teach lessons from the Bible and give our little worshipers an opportunity to develop spirituality. As a non-denominational Christian church, we focus on being a place where everyone, no matter your background, is welcome!
Like this content? Share it here!